Xgode
Build native app
from FileMaker Go online
in 15 minutes
Xgode Overview
Don't waste time downloading or learning how to use any developer tools. Simply use this online service to convert your FileMaker Go app into a native app. Xgode:
Turns your FileMaker Go app to a native app for iPhone and iPad
Does not require you to download, learn, and use any developer tools
Does not require you to own a Mac
Lets you use plug-ins in your app
Generates a secure web installation page for your in-house distribution
All you need is a copy of FileMaker Pro Advanced, a FileMaker Developer Subscription, and Apple Developer Program membership (enrolling as organization recommended).
How to Build an App Easily in Minutes
Building Process Simplified
Until Xgode was available these were the steps you needed to perform to turn a FileMaker Go app to a native app and install it on your iOS device:
Get an Apple ID and enroll in Apple Developer Program
Register at FileMaker Community
Get FileMaker Developer Subscription
Buy a Mac
Download and install Xcode
Download and learn to use the FileMaker iOS App SDK
Learn to use Xcode or get a thid party tool/template
Prepare the app components and graphics
Generate provisioning profile and code signing certificate
Build the app
Resolve compiler/link errors and build again
Create a manifest file and upload to a secure website
Visit the web page and install the app
With Xgode, we have eliminated steps 4-9 and 11-12 for you!
Time Needed to Build an App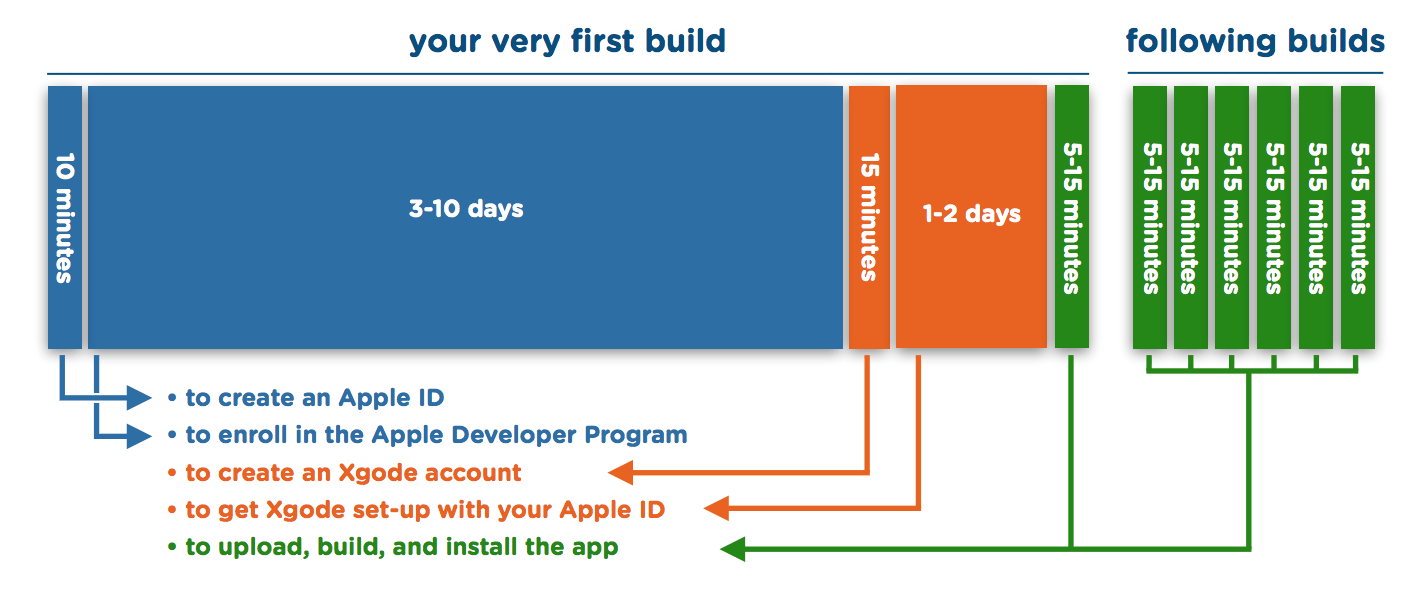 Start Building Now
Don't hesitate, sing-up for a free account below, and start building your native apps. Or simply log in with your credentials if you have an account already. If you have any difficulties, contact us and we'll help you
Looking for something not listed above? Contact us with your requirements, we can develop a custom plug-in or tool tailored to your specific needs.
Call
us
Usually available on working days between 7am and 5pm GMT
We'll call you back if you call from a discoverable phone number and fail to reach us
Let us
call you