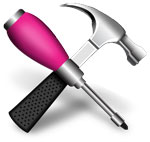 I have just read Anders Monsen's post A Simple Debug Function for PHP at the Mightydata's blog. My first thought was this is similar to what I have been doing since I learned PHP a few years ago. But then I discovered something very bad about myself...
The lack of debugging abilities in server-side web scripts of any kind (including PHP) has always been a nightmare for web app developers. It reminds me how I was debugging Assembly language routines on Apple //e about 20 years ago...
It seems that most PHP developers use the same old techniques to debug their PHP code. This link is a nice proof of that:
http://php.net/manual/en/debugger.php
But when I consider for how long PHP has been available and how smart people are out there, I conclude there must be a better way to debug server-side PHP. So I type "php debugger" in the Google search field, hit Enter, and explore...
Hey, try it our yourself to know what I mean. Click here!
Sometimes we cause headaches to ourselves only because we're too lazy or too doubtful to simply try to search for an existing solution to our problem. Well, I write "sometimes" but mean "often".
Another example is how we write the same custom functions again and again. There are at least two good web repositories of custom functions for FileMaker Pro Advanced (yes, you need the Advanced version to be able to define custom function but this is a single sufficient reason to get Advanced). The two websites are BrianDunning.com and fmfunctions.com. Brian Dunning even has a nice Dashboard Widget (download here) for Mac users.
Google's TV campaign says that life is searching...
So let's go and live...
and let's stop wasting our time by reinventing the wheel.